Speed Your Evolution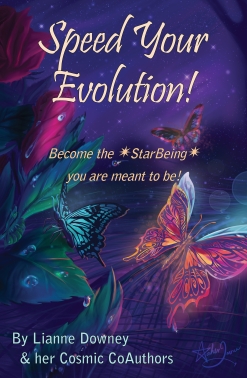 Become the Star Being You Are Meant to Be!
Published by Jolibro Publishing, Spilled Secrets
Unleash the Power you hold throughout your many lives...



Tired of the slow pace of change, both personally and globally? You don't have to wait. Speed Your Evolution introduces you to the multidimensional energy principles that carry the intelligence of You from dimension to dimension, from life to life, at every present moment.

Once you grasp this cosmic secret, your life—lifetimes—will never suffer the same, boring repetition. This workshop-in-a-book will teach you how to

• Raise your frequency vibration,
• Speed your development, and
• Avoid thousands of lifetimes of unnecessary repetition!

The book includes exercises, illustrations, and anecdotes from the author's decades of experience studying and teaching the healing benefits of past life awareness. It's based on the foundational teachings of science visionary Ernest L. Norman (1904‒1971), with emphasis on practical, day-to-day applications of his multidimensional cosmology.

You'll learn how to reconnect with your spiritual Teachers and rediscover secrets you once knew when you lived in Atlantis, when the continuity of consciousness was an accepted view of the Infinite. The comprehensive exercises will help you reawaken your own natural psychic abilities.



Meanwhile, you'll discover ways to evaluate psychic "readings" you might have received from others. What is true? What is not? What will help you, and what might actually hold you back?



This workbook's simple explanations provide a foundation in Ernest L. Norman's "universal, articulate, interdimensional" science of life, the energy science based on frequency and harmonics that will help you live better now. You'll understand how to attract like-minded partners and polarities in the future, while you use your new insights to harmonize your most challenging current relationships.

Relationships are key, but so are other factors in life. The book contains many examples of how targeted past life awareness can help you unlock present-life problems with health, money, relationships, career, or family.

Soon you may view your days, no matter how they go, as Light-filled adventures in personal development. You'll know why you're here to carry out a personal mission of self-development, and where you fit in the infinite Universe.

You'll be well on your way to becoming the Star Being you are meant to be!
WHAT READERS ARE SAYING:



"In the beginning pages, the author mentions that the readers would be receiving attunements via higher-dimensional teachings that would be stored in their unconscious knowing. I didn't give it too much thought until I found myself having some pretty spectacular dreams that started the first night after I began reading the book. In fact, the dreams were linked to some undeniable past life scenes that not only felt true, but also put me on the road to healing an important relationship. Coincidence? Pretty tough to place a finger on it at this point....Like other great esoteric texts, the messages, tools, and processes contained within its pages are simple, yet powerful." – Amanda W., Goodreads reviewer

"Speed Your Evolution is wonderfully readable, attainable, humorous, marvelously human—and the `work' is Light. It's still a serious 'how to' book, absolutely packed with vital, vibrant information and probing personal exercises for maximum growth."— Libby Maxey, Author of One Becomes One

"... a joy to read. I felt satisfied and connected in the end that all was well, that all will be well, as we travel to learn this never-ending life adventure."—Michael Leas, Inventor, The Magnavex Project

"... elicits contemplation, insight, and a pondering about how much more there really is that few teach us in the mainstream."— Neal Bogosian, Author of The Adventures of Chip Doolin

"It is a truly wonderful book...I must say, it is just so refreshing to have such a 'woo-woo' topic covered with such objectivity and logic. The authors just make it so clear that there are so many unknowns and that there are so many subtleties, and it doesn't come across as anything over-promised or like they're selling something that is too good to be true. I think the most repeated and troublesome element to teaching the Way on this planet is that the students of the great teachers almost always fail to grab the true core of the master's vibe and thus accidentally make it increasingly imperfect through the game of teaching telephone. I feel VERY strongly that the author is someone that actually grokked it. Especially as these topics become more and more trendy and people are jumping on board to become coaches and advisers for others."—Liam Lukasik, Curator/Editor, Libris Lotus
AVAILABLE WHEREVER YOU BUY BOOKS!
ISBN 978-0-9824691-7-0 (Paperback)
ISBN 978-0-9824691-8-7 (eBook)