Cosmic Dancer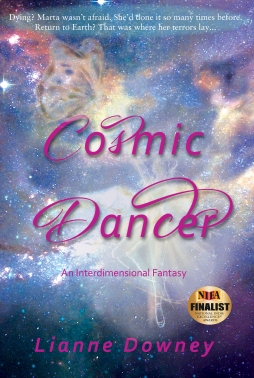 ** NIEA Finalist Award in Visionary Fiction **



Dying? Marta wasn't afraid. She'd done it so many times before. Return to Earth? That was where all her traumas and her terrors lay. But it was too late.



Now she's come back as Amelia, an aspiring ballerina with a mother who drinks too much and a boyfriend who moves too fast. She's started to have visions of past lives and, strangest of all, of her life between lives. She's terrified, because it's 1969 in her small Michigan town and no one sane speaks of such things!

Crystal butterflies, gleaming cities, extraordinary teachers who arrive with every question she poses...it's beautiful in that higher-dimensional paradise. But she cannot stay. To fulfill her mission—a lifetimes-long endeavor—she must face life on Earth again, must find a way to cope with her jealous mother's demand that she quit her beloved ballet, just when her full potential is about to be discovered.

Yet Marta/Amelia has allies. They can't interfere—but can they help? Every day her muscles grow weaker as she misses her dance classes. Who can she trust? And who threatens her mission on Earth?

This is a book about drawing on what you know to be true within, about finding your importance in the universal cosmos, and about identifying those who can help you rise to your fullest potential. It touches on themes of death and rebirth, alcoholic parents, and the thinness of the veil between this dimension and others in the multiverse. It's set on Earth in 1969—and in one soul's extraordinary life between lifetimes.

WHAT READERS ARE SAYING:

"Lianne Downey shows us that there is more to human nature than meets the eye, in this lifetime anyway. This incredible book takes you on a journey that will change the way you view the difficult relationships in your life, forever." — Chelle Doetsch, A New Yew Reiki & Massage

"I finished the book in two days and thought it was fantastic."—Janna Sipes, author of Dancing Naked in Front of the Fridge

"A delightfully woven story providing a kaleidoscope of visual imagery mixed with the 'unseen knowing' of the soul."—Tom Youngholm, author of The Celestial Bar

"Have you ever met people for the first time who felt very familiar? Or you felt so comfortable with them it was as if you had known them forever? There may a good reason for your feelings. Lianne Downey has created a beautiful story, woven with elegance and warmth, with such amazingly colorful images that you are drawn into the experience completely. Tales of reincarnation, life in between lives, and relationships needing redemption all make this a captivating read." —Pamala Oslie, author of Life Colors & Love Colors

"I have to say the idea that we are given gifts to bring into the world really touched me. This book is uplifting and thought provoking while being thoroughly entertaining. I loved it!"—Mary Pinizzotto, Freebox Everyday Dance

"...You can almost smell the high school, hot dogs, and homecoming...and the overflowing ashtrays, sticky left-over drinks, and disarray of her alcoholic parents. Amy's real-est life, however, is not comprised of her dysfunctional family or her high school dilemmas or even by her one true love, dancing. In the midst of her teen-aged angst, she begins to envision snippets of her past lives and full visions of her life between lives. Cosmic Dancer weaves these lives and visions together in a masterful way, identifying the intuitive allusions that underlie and inform Amy's present life."—Libby Bratzler Maxey, author of I Am Liberty

"I could not put it down."—Jo H.

"Reading Cosmic Dancer ignited something within.…I am going back to full-time dance and will go on to teach again as I have taught in previous years. However I now know, just like Amelia in Cosmic Dancer, that my dancing has its own purpose no matter what limitations I may have, as others will benefit from seeing my dancing, and my students' dancing, in a very healing way."—Jasmin K., Melbourne, Australia

"What really ruins the idea of reincarnation is when people think they've been someone famous. I love the way you turned things on their head. That's when I started to take this seriously, on a much deeper level."
—Linda Jo Hunter, author of Lonesome for Bears

"I had these vivid dreams while reading the book…I know they were past-life flashbacks, because they had a reoccurring theme from other dreams I have had in the past and evoked a deep emotional response of the reality of the situation."—Pamela S.

"When I began [the chapter] 'Walking Lessons,' I experienced a dimensional shift into the love of the inner planes and teachers!!! The frequency of that chapter contains healing vortexes that surely will affect permanently anyone who has been inwardly directed to read it. I am going through a very deep and love-filled time."—Lorian H.

"It's one of those books I turn to when I need to calm down."—Bri C.

"The book brought me feelings of hope and suspense and in the end, you found that you wanted more of this positive love feeling. I will be looking for the sequel."—Michael L.

"As a librarian, I've recommended this book to three library systems for their collections."—Laura V.

"Wishing I could stay awake later nights to get further faster."—P. C.
AVAILABLE WHEREVER YOU BUY BOOKS!
ISBN 978-1-953474-06-3 (Hardcover with dust jacket)
ISBN 978-0-9824691-1-8 (Paperback)
ISBN 978-0-9824691-3-2 (eBook)